Monday, April 05, 2021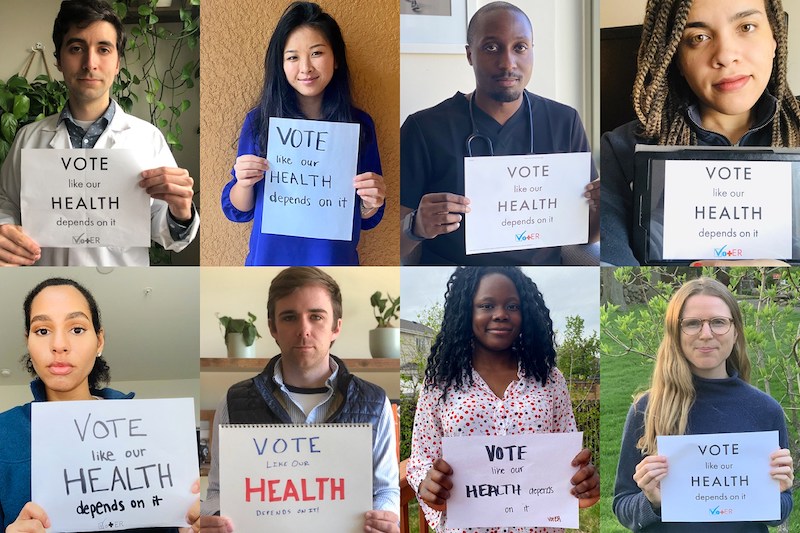 Friday, April 23 – Saturday, April 24
The Civic Health Conference, hosted by Vot-ER, will bring students, clinicians, social workers, academics, and hospital leaders together to connect the dots across health and democracy, affirm civic engagement as a social determinant of health, and discuss topics from the importance of local elections to how to engage the youth vote to the power of community organizing. The Center for Innovation in Social Work & Health is proud to sponsor this event and present the following workshops: 
 
Social Work and Civic Health: Advancing Policy for Equity and Justice
Friday, April 23, 2021, 2:20pm – 3:20pm    
Our panelists, a state legislator, non-profit executive, and leader of a graduate school-based GOTV campaign, will explain social work's role in promoting equity and justice through policy work. Current initiatives will be described in the context of the social work profession's historic role in promoting systems-level change focused on political, social, economic, and cultural factors influencing population health.    
Panelists: 
Tami Gouveia, DrPH, MSW, MPH, (SSW '11, SPH '12) State Representative, 14th Middlesex District, Massachusetts House of Representatives
Mojdeh Rohani, MSW, LICSW, (SSW '09) Executive Director, De Novo 
Kristina Whiton-O'Brien, MSW, LICSW, (SSW '95) Assistant Director for Online Advising and Field Education, Boston University School of Social Work
Geoff Wilkinson, MSW, (SSW '85) Clinical Associate Professor, Boston University School of Social Work (moderator)
Social Work Roles in Health Care Settings: Addressing Patient, Family, and Community Needs
Saturday, April 24, 2021, 12:00pm – 12:45 pm
In this session, clinical social workers will describe their roles in relationship to other health professionals addressing patient and family medical, social service, and community resource needs. Panelists include clinicians working in in-patient, out-patient, and community health center settings addressing acute medical, rehabilitation, and behavioral health needs. The panel will highlight the socio-ecological framework of social work practice in practical terms, including discussion of clinician efforts to promote equity, social justice, and civic health through community and political engagement.
Panelists: 
Dorothy Bergold, LICSW, MSW, (SSW '81) Medical Social Worker, Massachusetts General Hospital, Primary Care Practice
Tfawa Haynes, LICSW, MSW, (SSW '07) Psychotherapist, Clinical and Group Social Worker, Behavioral Health Staff Specialist, Fenway Community Health
Karen Potter, LICSW, MSW, Clinical Social Worker, Spaulding Rehabilitation Hospital
Betty J. Ruth, MSW, MPH, (SSW '84, SPH '85) Clinical Professor Emerita, Boston University School of Social Work (moderator)
This event is free and open to the public. Advance registration is required. Register and learn about the full conference program below. 
1.5 free social work continuing education credits are available for social workers licensed in Massachusetts. Attendance of both workshops is required, along with successful completion of an evaluation and quiz.