Wednesday, December 13, 2017
New research from the Center for Innovation in Social Work and Health at Boston University available on AJPH.org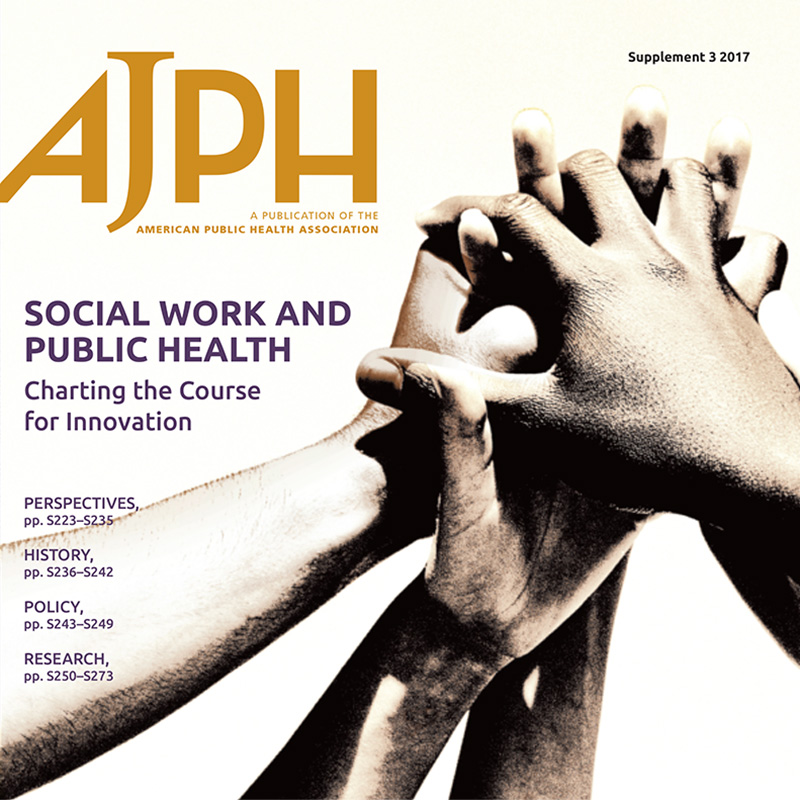 Washington, D.C., December 13, 2017 — A special supplement to the American Journal of Public Health published today explores new perspectives and research on the role of social work in public health. Articles in this supplement tackle questions about the role of social workers in advancing health equity and population health policies, how public health is conceptualized in social work education and training and the history of social work in public health, among other topics.
New research published in the supplement includes "Social Work's Role in Medicaid Reform: A Qualitative Study" and "Health in All Social Work Programs: Findings from a National Analysis."
This issue brings to light the need for social work to deepen its engagement in research, education, leadership in practice and policy related to population health. The supplement also explores how social work and public health can move forward together to have a greater impact.
The papers are the result of several transdisciplinary learning communities comprised of students, faculty from Boston University (BU), policymakers and practitioners. The Center for Innovation in Social Work and Health at BU School of Social Work convened these groups over the past year to promote population health and health equity, showcase social work's impact and identify opportunities for increased involvement in public health-oriented research, education, practice and policy.
Find a full list of AJPH papers published in this special supplement below:
These articles were published online December 13, 2017, at 4 p.m. EST by AJPH. AJPH is published by the American Public Health Association and is available at www.ajph.org.
 
---
The American Journal of Public Health
The American Journal of Public Health is the monthly journal of the American Public Health Association. APHA champions the health of all people and all communities. We strengthen the public health profession. We speak out for public health issues and policies backed by science. We are the only organization that influences federal policy, has a 145-year perspective and brings together members from all fields of public health. Visit www.apha.org.
The Center for Innovation in Social Work and Health
The mission of the Center for Innovation in Social Work and Health (CISWH) at Boston University School of Social Work is to expand the impact of social work in health, public health, and global health in order to reduce health costs, improve outcomes, improve patient experience, promote population health and stimulate health equity nationally and globally. The Center promotes social work leadership in health through inter-professional and trans-disciplinary collaboration with public health, medicine, health economics, technology and other relevant disciplines. The Center accomplishes its mission through outcomes-oriented research, community partnerships, policy development, and education and training activities. Visit www.bu.edu/ciswh.