Thursday, September 19, 2019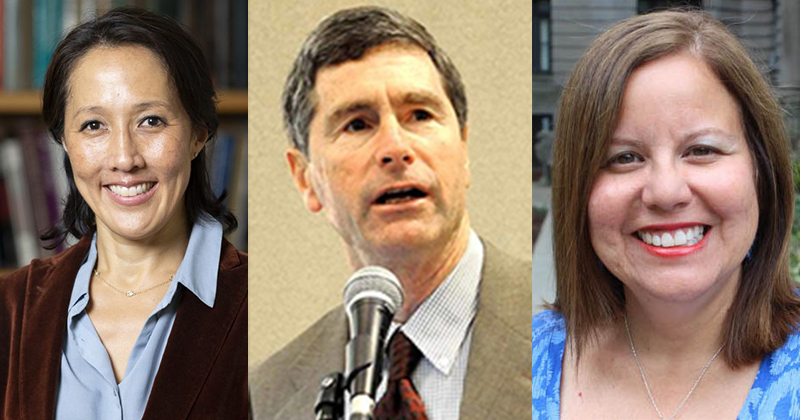 The Dean of the Boston University School of Social Work (BUSSW) and Director of the Center for Innovation in Social Work & Health (CISWH), Dr. Jorge Delva, has named three inaugural core directors to guide the Center's strategy and expand its impact on research, global health, and social work leadership. The three professors will work with Dr. Delva, researchers, BUSSW faculty, and staff to implement the Center's mission to expand the impact of social work in health care and public health—with a goal to improve the health and well-being of vulnerable populations nationally and globally. 
Dr. Christina Lee, associate professor, will serve as director of the Research Core. In this role, she will foster the development of research that advances public health social work, social work leadership, practice, and education, that impacts policy, and improves health equity. She will lead the building of the Center's research priorities, which include social work's role in advancing health equity, understanding the social determinants of health, and innovative health care models involving social work. She will also help foster and strengthen relationships between multiple stakeholders including community partners, BUSSW and CISWH researchers, practitioners, and policy makers.
Geoffrey W. Wilkinson, clinical associate professor, will serve as director of the Leadership Core. He will focus on advancing social work leadership in health care, public health, behavioral health, and improving social determinants of health for vulnerable populations. He will also develop and implement programs to enhance social workers' participation in policy and advocacy. His work will include organizing events that address challenges and opportunities in the field of social work, strengthening the framework and approaches of public health social work, developing a leadership incubator for social workers, and fostering professional development and networking opportunities.
Dr. Luz Marilis López, clinical full professor and associate director of BUSSW's MSW/MPH Program, will serve as director of the Global Health Core. She will develop partnerships with international organizations to advance social work leadership and culturally responsive practices in health globally. She will lead the development of education, training, and research opportunities that advance social work's role in global health equity. Dr. López will also help foster social workers' participation in policy, advocacy, and public health, and will lead the implementation of innovative technology and transdisciplinary collaborations to improve health outcomes globally. 
"The establishment of these cores represents a significant step forward for the Center in achieving our mission," said Dr. Delva. "We are committed to making meaningful contributions to social work research and practice in ways that can be seen and measured. Thanks to the vision, experience, and innovative ideas contributed by our core leaders, we are well on our way to meeting that goal."