Friday, March 01, 2019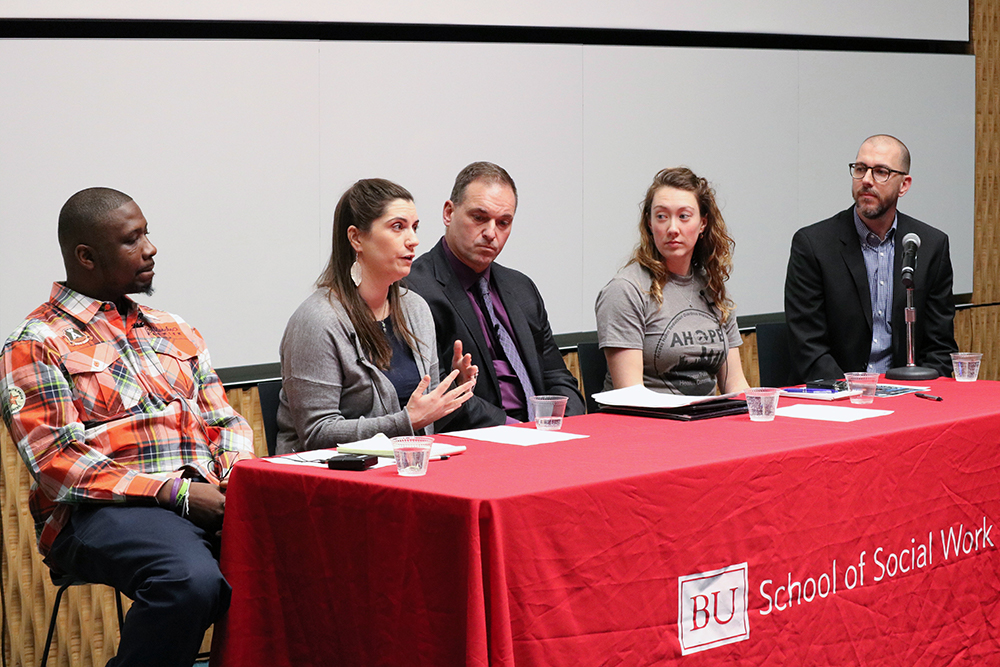 Panel features harm reduction approaches from social work, public health, and emergency services
Social work, public health, and law enforcement experts discussed their agencies' efforts to address the opioid epidemic at a panel discussion on February 25, 2019, at Boston University's Kilachand Center. Hosted by the Center for Innovation in Social Work & Health, the panel focused on strategies for harm reduction, an approach that aims to lessen the negative effects of drug use in a person's life, even if the person is not ready to stop their substance use.
With roots in social justice movements and the HIV/AIDS epidemic, a harm reduction approach to substance use prioritizes empowerment and dignity. Although harm reduction can include referrals to treatment, it also includes "meeting people where they are," through needle exchange and overdose prevention services. Harm reduction emphasizes access to health and social services regardless of whether a person is ready to commit to recovery.  
BU School of Social Work (BUSSW) doctoral student Corinne Beaugard, who co-organized the panel, opened the event with an overview of the opioid epidemic in Massachusetts and harm reduction principles. During the discussion, moderated by Chris Salas-Wright, assistant professor at BUSSW, common themes emerged regarding respect for individuals' lived experiences and the importance of collaboration across service areas.
"There's a myth or perception that people who use drugs don't care about their health," said Clare Schmidt, program coordinator for Boston Public Health Commission's AHOPE Needle Exchange. AHOPE, which serves 80-150 people daily, provides access to clean needles and Narcan, as well as testing for hepatitis C, HIV, and other STIs. AHOPE also acts as a bridge to other medical and social services, said Schmidt. The population AHOPE serves is largely homeless, with coexisting mental and physical health conditions. Many clients have had traumatic experiences with law enforcement or social workers, said Schmidt, making relationship building over time an important part of the organization's work.  
"A lot of times in treatment or in detox, you're only seeing the person at the chaotic end of the drug use spectrum, and you're ignoring their abstinence, low use, moderate use," said Schmidt. "With harm reduction, you can see that person as a whole human being and recognize that they have so many more dimensions than whatever their drug use looks like at that point in time, and I think people respond really well to that in general."
Caitlin Clark, a social worker for Boston Medical Center's Project RESPECT, which provides services to pregnant women struggling with addiction, also stressed the need for relationship building. "For anyone with an opiate use disorder, asking for help can be incredibly challenging and difficult because of this wider social stigma," she said. Feelings of shame and guilt are particularly strong among expecting mothers, and many OBGYN doctors will instruct pregnant women to stop opioid use immediately—even though medication-assisted therapy, such as methadone treatment, is considered the "gold standard," said Clark.
Fear of interaction with child welfare and law enforcement agencies can further compound problems, deterring women from obtaining the prenatal care they need, she said. "Data show that women who use throughout their pregnancy but come consistently to prenatal care have better outcomes—so just giving a patient a space to come in and feel like they have dignity, worth, and support is harm reduction in and of itself."
Law enforcement agencies in Massachusetts are also incorporating harm reduction techniques, a reversal of the punitive policing of drug offenses in past decades. "We can't arrest our way out of the problem," said Chief Scott Allen, East Bridgewater chief of police, and member of the PAARI (Police Assisted Addiction and Recovery Initiative) National Advisory Police Council.
Allen said the East Bridgewater Police Department now has a social worker on staff, and sends outreach teams to homes to encourage people who have survived an overdose to seek treatment. Officers carry Narcan, a development he said he would not have predicted 20 years ago. Allen encouraged people working in social work and public health to learn how different fields are approaching the opioid epidemic, rather than making assumptions. "If you think every police officer is just looking to make an arrest, you're not going to be able to interact with them as effectively," he said.
Even when a person embarks on recovery, the principals of harm reduction are still highly relevant. Tyshaun Perryman, a recovery coach at Boston Medical Center's Project RECOVER, works with people who have been discharged from two opioid detox programs, Lahey Health Behavioral Services Boston Treatment Center and Dimock Community Health Center. Perryman works with clients for six months, acting as a guide and mentor by developing a recovery plan, and connecting them to needed resources such as medical care, housing, food, and job training. His work is part of a BMC study to evaluate the role of recovery coaches in addiction treatment, as well as racial disparities in treatment access.
"When some people leave detox, they're just not ready, even though they made a step," said Perryman. "The key thing is I'm still there with them. They know 'if I relapse, my recovery coach is still there with me.' It's not that they are bad people, or that they're undecided. If you know about the stages of change, relapse can sometimes be a part of that process. It may take a person a thousand times before they actually get it—and they're sincerely trying. It supports them for me to just be there and to be non-judgmental and tell them that listen, no matter what, we're going to support you in whatever change you want to make."
Perryman advised social workers and other health professionals to acknowledge the seemingly insurmountable obstacles people living with addiction may face, including unstable housing, family abandonment, and depression. "They have come through a battlefield just to make it to your office."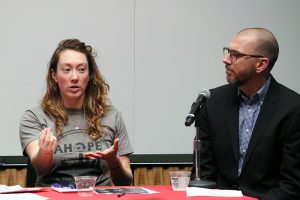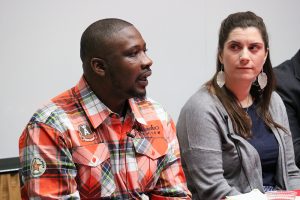 Article and photos by Nilagia McCoy of the Center for Innovation in Social Work & Health.