Wednesday, May 30, 2018
Results suggest Medicaid Buy-in Programs in Lousiana and Massachusetts improve access to care for children with disabilities
Because children with disabilities use more health-care services than children generally, their families often experience higher health care costs to provide for their children's needs. Families covered by Medicaid receive assistance with these costs because all medically necessary health care services for enrollees under the age of 21 are covered, with very limited cost-sharing. However, these costs can pose a significant problem for families whose household income is too high to qualify for the state's Medicaid program but whose employer-sponsored insurance may be inadequate to cover their children's health care needs. To enable families to better afford the health care their children with disabilities need, several states provide Medicaid Buy-in programs. These programs expand Medicaid coverage to children who meet the disability criteria established by the Social Security Administration's Supplemental Security Income (SSI) program and whose family income is too high to be eligible for Medicaid but falls below 300 percent of the federal poverty level.
How effective are these programs in increasing access to benefits while reducing costs for families whose income exceeds Medicaid eligibility? In 2012, the Catalyst Center conducted surveys of families in two states to learn about their experiences with the programs. The results of the surveys, conducted with families in Massachusetts and Louisiana, have now been published.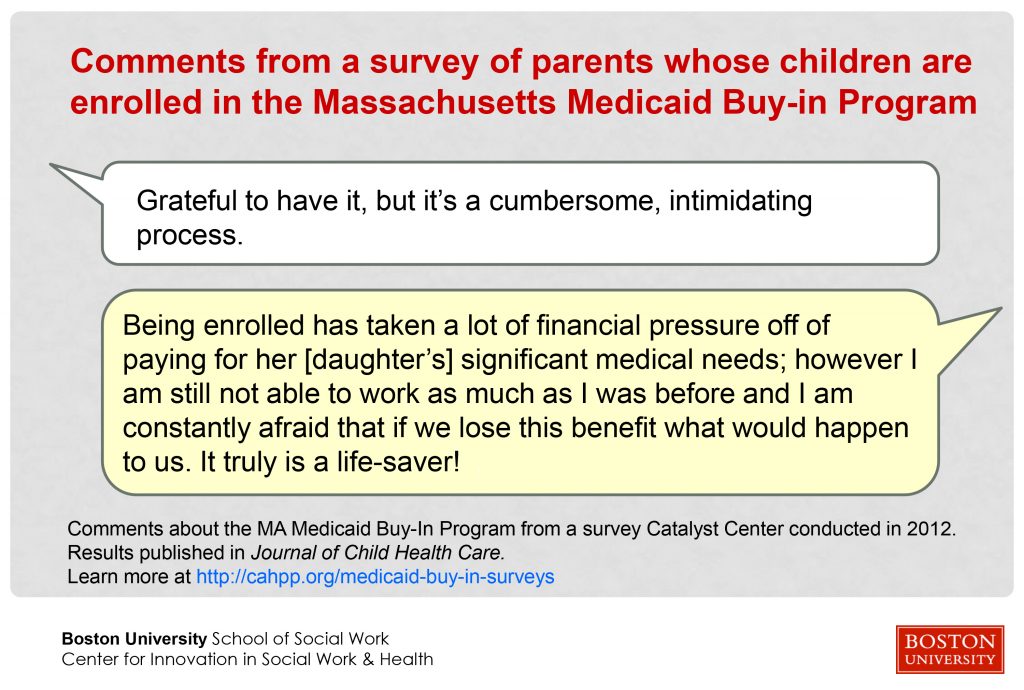 Image plain text description
Massachusetts has operated a Medicaid Buy-in program for individuals with disabilities since 1988. Results of the survey of parents whose children are enrolled in the MassHealth CommonHealth Buy-In Program reflect a sample size of more than 600 responses. An article published in the Journal of Child Health Care describes the survey process and results. Findings suggest that the MassHealth CommonHealth program improves access to care for children with disabilities overall. The article also suggests policy and administrative changes that could improve the program and further increase access to care for children with complex, costly conditions. The Massachusetts survey article abstract can be viewed on the PubMed.gov website.
Louisiana implemented a Medicaid Buy-in program for families of children with disabilities in 2007. An article in Maternal and Child Health Journal describes the process and results of the survey of parents and caregivers whose children with disabilities were enrolled in Louisiana Family Opportunity Act (FOA) Medicaid Buy-in program as of June 2012. Results suggest that the program fills a niche in coverage needs among families of children with disabilities in Louisiana; however, small sample size and significant differences between the sample enrolled in the Medicaid Buy-In program and the comparison groups limits how generalizable the results are. The Louisiana survey article abstract can be viewed on the SpringerLink website.
In addition to Massachusetts and Louisiana, Medicaid Buy-in programs have been implemented in Colorado, Iowa, North Dakota and Texas. The results of the two surveys suggest that adopting a Medicaid Buy-in program may be an effective way for states to create a pathway to Medicaid for children with disabilities whose family income is too high for Medicaid and who have unmet needs and/or whose families incur high out-of-pocket costs for their care.
A heartfelt THANK YOU to all the survey participants in Massachusetts and Louisiana who took the time to share their insights and experiences to help broaden the knowledge of how this policy affects their families' well-being.
To learn more about Medicaid Buy-in programs, visit the Catalyst Center website at https://ciswh.org/project/the-catalyst-center/financing-strategy/medicaid-buy-ins/
---
The Catalyst Center, the National Center for Health Insurance Coverage and Financing of Care for Children and Youth with Special Health Care Needs, is supported by HRSA of the U.S. Department of Health and Human Services (HHS) under grant number U41MC13618, Health Insurance and Financing/CSHCN ($473,000 annually). This information or content and conclusions are those of the authors and should not be construed as the official position or policy of, nor should any endorsements be inferred, by HRSA, HHS or the U.S. Government. LCDR Leticia Manning, MPH, MCHB/HRSA Project Officer.