Thursday, October 31, 2019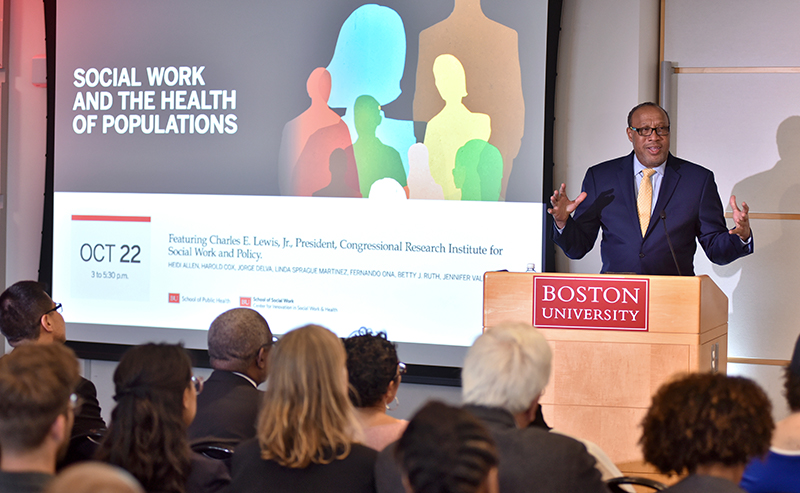 A symposium hosted by the Center for Innovation in Social Work & Health and Boston University School of Public Health focused on elevating the field of public health social work and the importance of policy in addressing social determinants of health.
On October 22, 2019, members of the social work and public health communities came together to discuss how both disciplines can collectively address issues affecting the health of domestic and global populations. After a warm welcome from Dr. Jorge Delva, dean of the Boston University School of Social Work (BUSSW) and director of the Center for Innovation in Social Work & Health, and Dr. Sandro Galea, dean of Boston University School of Public Health (BUSPH), the podium turned over to keynote speaker Dr. Charles  E. Lewis Jr., director of the Congressional Research Institute for Social Work and Policy (CRISP).
Dr. Lewis recalled his own journey to find social work first as a consumer, then as a student; eventually, discovering his passion for social work advocacy in politics. Reflecting on his social work practice in Washington, DC, he noted, "I call myself a 'political social worker,' meaning, I'm up on the Hill, promoting active engagement of social work in political spaces." His passion is to move policy discussions to political channels, where people can turn ideas into action. As founder of CRISP, he urged the audience to engage congresspeople on important social issues, and said he hopes to bring social workers into congressional field offices for work placements to give the next generation of social workers exposure to grassroots political action. He closed his remarks with a call to action, for social workers to honor the work of the late Elijah Cummings and to do their part to support democracy by voting in elections.
Next up was the afternoon's panel discussion moderator, Harold Cox, associate dean for public health practice and associate professor of community health sciences at BUSPH. He turned the conversation toward exploring ways to initiate and sustain upstream change in the public health social work space. Two questions were posed to the panel of guest speakers: 1) What does public health social work bring to the table in these discussions? And 2) What can public health social work do to improve its reach and outcomes?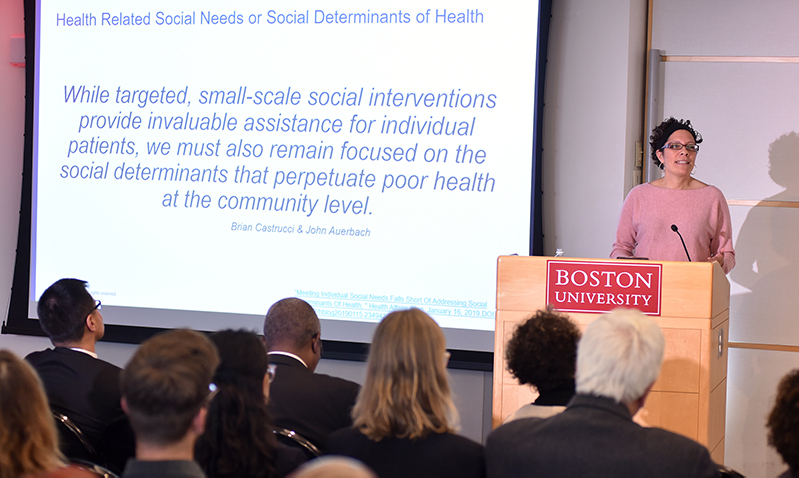 Betty Ruth (SSW '84, SPH '85), clinical professor and director of the MSW/MPH program at BUSSW, spoke from a higher education perspective. "Social work is a health profession," she said. "Half of social workers work in a health setting." Yet, she observed, most ultimately work downstream in clinical capacities, where impact on public health is often limited. She urged educators to think more broadly about social work to better encompass public health, ideally by integrating public health more fully into social work curricula.
Linda Sprague Martinez, associate professor at BUSSW, offered her thoughts from a community health perspective. In her experience, she sees that broader social systems have an impact on people's overall health. "We need to learn from communities, instead of just educating them," she said, observing the two-way linkage between people and environments in social work practice. She also suggested more crossover between public health and social work curricula and educators as a way of promoting cross-discipline partnerships and competency. 
Speaking from a healthcare perspective, Jennifer Valenzuela (SSW '00, SPH '01), principal of equity and people at Health Leads, gave examples of how public health and social work can come together to address social determinants of health, which are "fundamental drivers" of many health conditions. She shared how Health Leads has integrated social workers into their organization to address not only the needs of individual patients, but also in their plans to address policy and broader systems.
"Public health social workers have earned their place at the policy table."
Heidi Allen, associate professor at Columbia University School of Social Work, next took the stage and highlighted policy's widespread impact: "Policy affects everything, and everyone…policy is the avenue to creating change." She urged social workers to develop a strong professional identity, ready to address questions of race, power, and privilege in conversations about meaningful change. "Public health social workers have earned their place at the policy table," she said.
The final panelist was Fernando Ona (CAS '92, SSW '15), clinical associate professor of public health and community medicine at Tufts University and a clinician at the Boston Center for Refugee Health and Human Rights at Boston Medical Center. His work abroad with refugees and victims of humanitarian crises has given him a view of social work practice in dangerous and delicate conditions. "Systems must not always be outcomes-focused. Process matters, and social workers are right there with patients." He challenged social workers to "radically listen to the populations we're engaged with" in their practice.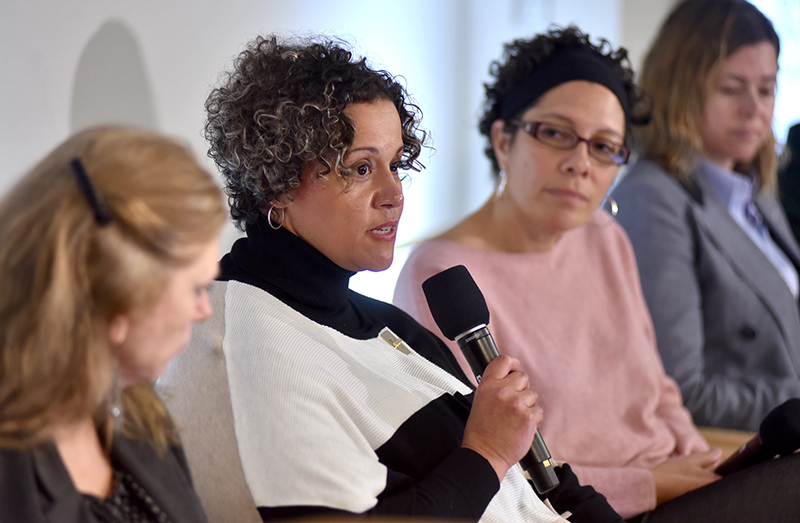 Following the presentations, Dr. Cox invited all panelists and Dr. Lewis to join him for a group discussion. A common theme was that social workers need to change the nature of policy discussions by ensuring they are present at the table: public health social work, as a practice, needs to do a better job of identifying itself as a profession, and mentoring and developing the next generation of leaders.
With some self-effacing humor, the group noted that, for a discipline that generally has an aversion to power, social workers need to embrace their professional power to ensure that social work is represented in key places where policy is made. "We may not be your typical leaders," observed one panelist, "So we should be asking: how are we innovating around leadership and leadership education?"
The audience offered a few suggestions for social work practitioners. "Think about how to articulate the complex and comprehensive nature of our work when we engage with agencies and businesspeople." Another suggested, "we work under so many different labels, with less emphasis on the term 'social worker.' Would it help make us more visible to standardize under a single term?"
Watch the panelists' presentations in full, and hear more of their ideas for public health social work policy, scholarship, and practice in the video of the event.
Article by Mariah LeStage, photos by Craig Bailey, Perspective Photo.