Linda Susan Sprague Martinez, PhD
Associate Professor, Boston University School of Social Work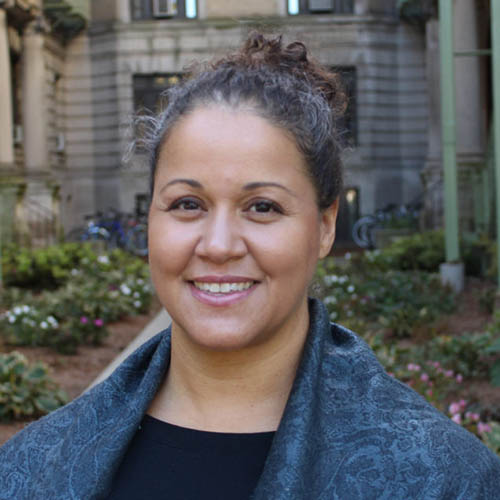 Bio
Linda Sprague Martinez, PhD, is an associate professor of Macro Social Work Practice. Her work bridges social work, public health and medicine. Her work examines how assets can be recognized and leveraged by communities to improve living environments and health. She is specifically interested in examining asset-based strategies to tackle health inequities; as such community engaged research (CEnR) approaches like community based participatory research (CBPR) and youth led participatory action research (YPAR) are central to her work.
Having formerly worked across municipal and state governmental divisions implementing disparities related policies and programs, and as an adolescent mental health provider, she brings practical expertise in community collaborations designed to engage diverse communities of color and low-income residents in community planning and intervention development.  Dr. Sprague Martinez is an effective participatory principal investigator who has received both federal and foundation funding to support her work.  She has developed trust relationships with community partner organizations locally, regionally and nationally. In 2017 she was a Boston Housing Authority, Center for Community Engagement and Civil Rights, Resident Empowerment Coalition, Resident Empowerment Honoree. Dr. Sprague Martinez has expertise in qualitative research methods, CBPR, YPAR, photovoice, youth engagement and community assessment and planning.
Impact
Sprague Martinez, L., Richards-Schuster, K., Teixeira, S., & Augsberger, A. (2018). The Power of Prevention and Youth Voice: A Strategy for Social Work to Ensure Youths' Healthy Development. Social work, 63(2), 135-143.
Sprague Martinez, L. S., Reich, A. J., Flores, C. A., Ndulue, U. J., Brugge, D., Gute, D. M., & Perea, F. C. (2017). Critical discourse, applied inquiry and public health action with urban middle school students: Lessons learned engaging youth in critical service-learning. Journal of Community Practice, 25(1), 68-89.
Martinez, L. S., Freeman, E. R., & Winkfield, K. M. (2017). Perceptions of cancer care and clinical trials in the black community: Implications for care coordination between oncology and primary care teams. The oncologist, 22(9), 1094-1101.
View more profiles
Learn more about our team of researchers, faculty and students at the Center for Innovation in Social Work & Health