Monday, March 18, 2019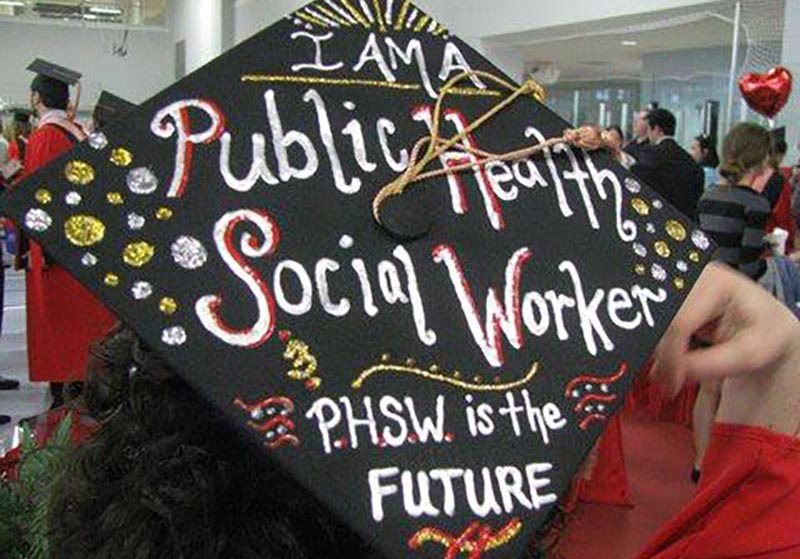 A new handbook from the Center for Innovation in Social Work & Health (CISWH) at Boston University School of Social Work provides current and prospective Master of Social Work/Master of Public Health (MSW/MPH) program administrators and educators with useful information on how to build and strengthen these valuable dual-degree programs.
The handbook is part of a larger effort to advance leadership in public health social work education, the Boston University Advancing Leadership in Public Health Social Work (BU-ALPS) project, funded by the Health Resources and Services Administration (HRSA) of the U.S. Department of Health and Human Services.
There are 45 MSW/MPH programs currently in existence across the country, with more under development. Graduates of these popular programs are uniquely equipped to address current and future health challenges. Roughly half of all social workers work in health settings; over the next 10 years, it is projected that number will increase substantially.
Social work is well-known for its clinical activities in health, including care coordination, medical social work, and behavioral health. However, social work's wide-lens or "upstream" practices in prevention, health promotion, health advocacy, and public health social work are less widely appreciated. MSW/MPH programs are key tools in supporting wide-lens public and population health education and can help promote a high-impact social work response to major health challenges.
Authored by Betty J. Ruth, MSW, MPH; Madi Wachman, MSW, MPH; Alexis Marbach, MPH; Jamie Wyatt Marshall, MSW, MPH; and Nandini S. Choudhury, MSW, MPH candidate, the handbook is designed to help schools with their efforts to establish, promote, improve, and evaluate MSW/MPH programs. It includes an overview of the history, current strengths, and existing challenges associated with MSW/MPH program education, as well as practical resources such as program guidelines, an advising guide, an integrative seminar syllabus, and examples of alumni profiles.
This project is supported by the Health Resources and Services Administration (HRSA) of the U.S. Department of Health and Human Services (HHS) under grant number G05HP31425, Leadership in Public Health Social Work Education Grant Program, in the amount of $300,000 awarded to Trustees of Boston University. No percentage of this project was financed with nongovernmental sources. This information or content and conclusions are those of the author and should not be construed as the official position or policy of, nor should any endorsements be inferred by HRSA, HHS or the U.S. Government.