Thursday, September 07, 2023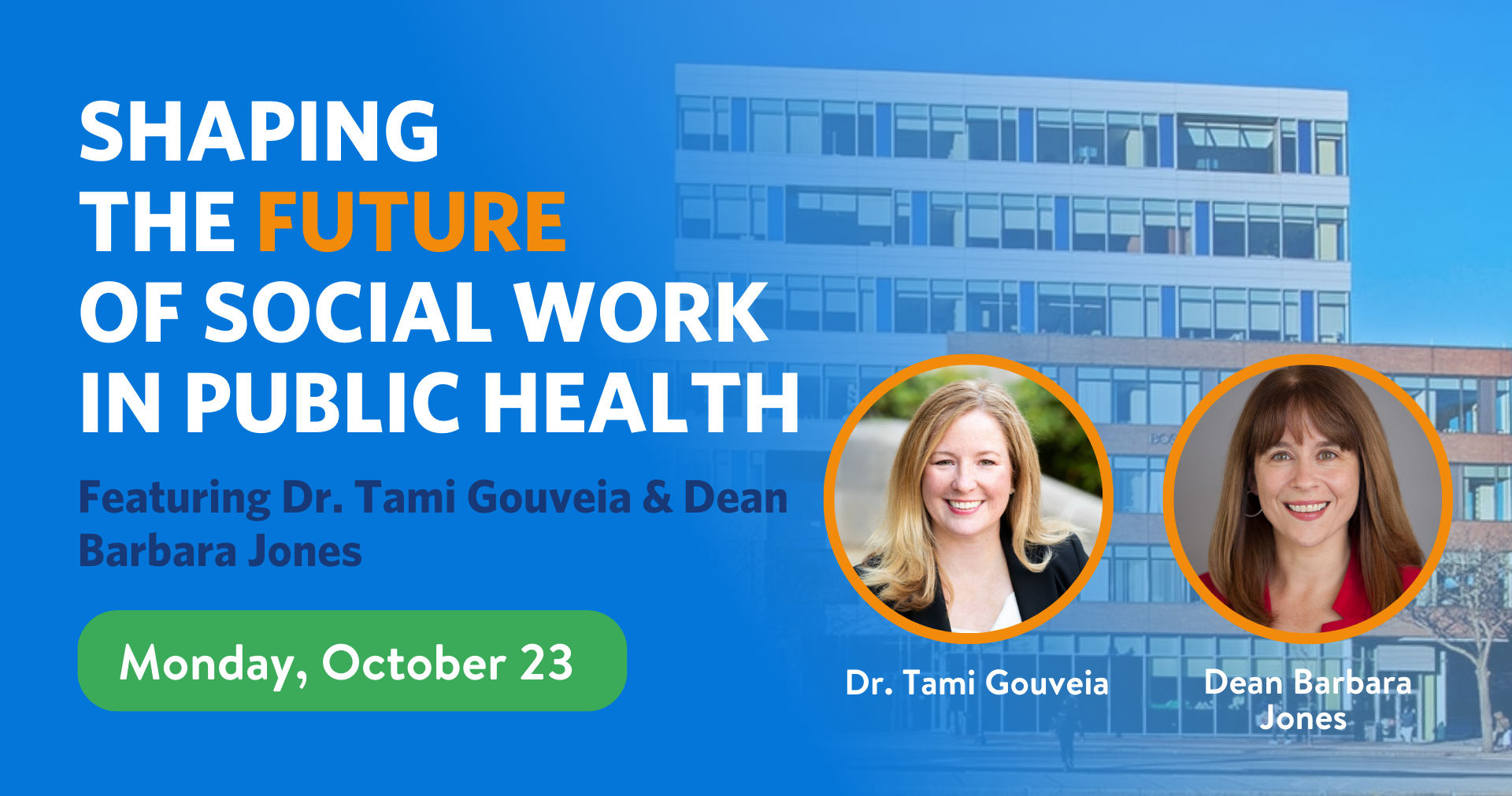 Shaping the Future of Social Work in Public Health 

A Virtual and In-Person Event
Monday, October 23, 2023
4:00 – 5:00 PM
Zoom; Kilachand Center Room 101
610 Commonwealth Ave, Boston, MA 02215
Welcome Reception to Follow
Kilachand Center Lobby
Social work leadership in health and public health is needed now more than ever. So how is the social work field preparing for the future? What promise does the field hold for addressing the challenges that lay ahead? How can social workers stir rapid change for equitable and accessible health and well-being for all? 
Join the Center for Innovation in Social Work & Health (CISWH), Director Dr. Tami Gouveia, and Boston University School of Social (BUSSW) Dean Barbara Jones for an important conversation on how social workers can strengthen public health and the ways CISWH and BUSSW are forging a path for social work leadership in health equity. 
Program:
4:00 pm: Opening remarks by Ellie Zambrano, CISWH executive director
4:05 pm: Conversationwith Dr. Tami Gouveia and Dean Barbara Jones
4:35 pm: Audience Q&A 
4:55 pm: Closing remarks by Ellie Zambrano
Continuing Education Credit Info: 
Content Level: Intermediate
The target audience of this lecture and discussion is LICSW, LCSW, LSW, LSWA, and other health care professionals. The Future of Social Work in Health is approved by the Association of Social Work Boards (ASWB) Approved Continuing Education (ACE) program to be offered by the Center for Innovation in Social Work and Health as an individual course. Individual courses, not providers, are approved at the course level. State and provincial regulatory boards have the final authority to determine whether an individual course may be accepted for continuing education credit. ACE course approval period: 10/23/2023 – 10/23/2025. Social workers completing this course receive 1 continuing education credit.
1.0 national continuing education credit (free) is available to social workers licensed in the United States after completing a brief post-event quiz. The event will provide intermediate-level content and must be attended live to receive CE credits. Please provide your license number during registration if you want to receive credits. The post-event quiz will be sent out at the end of the event. Applicants must earn a score of 70% or higher to receive the CE certificate, which will be sent via email. Questions? Contact [email protected].
Learning Objectives: 
Describe how CISWH and BUSSW are lifting up the role of social workers in health and public health.

Describe how social workers in health and public health can leverage rapid change to strengthen the field for the future.

Identify how CISWH is leading and enhancing social work's role in fostering equitable health and well-being for all.
Accessibility:
Boston University strives to be accessible, inclusive, and diverse in its facilities, programming, and academic offerings. Your experience in this event is important to us. If you have a disability (including but not limited to learning or attention, mental health, concussion, vision, mobility, hearing, physical, or other health-related issues), requiring communication access services for the deaf or hard of hearing, or believe that you require a reasonable accommodation for another reason, please contact the event organizer at [email protected] to discuss your needs.
About Dr. Tami Gouveia
Appointed director of the Center for Innovation in Social Work & Health and Paul Farmer Professor in 2023, Dr. Tami Gouveia has extensive experience as a leader in social work and public health, policymaking, and change management. Throughout her 25-year career, she has used her expertise to drive meaningful change, improve community health outcomes, and promote economic and racial equity. She served in key leadership positions in nonprofit, philanthropic, and governmental organizations, including as director at the Massachusetts State Auditor's Office, The Rippel Foundation, Tobacco Free Mass, and the Greater Lawrence Family Health Center. Believing in the power of people working together for our shared humanity, Dr. Gouveia founded and led several efforts, including the Lowell Roundtable on Substance Abuse Prevention and the Massachusetts Chapter of the Women's March.
Dr. Gouveia was elected to two terms in the Massachusetts House of Representatives, where she passed legislation to combat the opioid crisis, defend reproductive justice and LGBTQ+ rights, advance housing and climate justice, reform education funding and the criminal legal system, and invest in programs to prevent and treat childhood trauma.
Dr. Gouveia holds a Doctor of Public Health in management, leadership and policy and a Master of Public Health from the BU School of Public Health and a Master of Social Work from the BU School of Social Work.
About Dr. Barbara Jones 
Dean Barbara Jones, PhD, MSW, FAOSW, is one of the nation's top scholars in the field of psychosocial oncology and palliative care. She joined BUSSW in 2023 from the University of Texas at Austin where she had been a member of the faculty for nearly twenty years. At UT Austin, Jones served as university distinguished professor, Lockhart Memorial Professor in Direct Social Work Practice, founding director of the Institute for Collaborative Health Research and Practice, and associate dean for Health Affairs in the university's Steve Hicks School of Social Work. She was also a distinguished professor and inaugural chair of the Department of Health Social Work at UT Austin's Dell Medical School – a department she helped build to bridge the social work and medical schools.
A first-generation college student, Jones earned her PhD and MSW in social welfare from the University at Albany (NY) and practiced as a clinical social worker for 15 years. She served from 2004-2011 as core faculty on the Initiative for Pediatric Palliative Care at Boston Children's Hospital and is currently on the national advisory boards for the Cambia Health Foundation Sojourns Scholars Leadership Program and the American Cancer Society's Center for Diversity in Research Training. She serves on the national steering committee of the Coalition for Social Work and Health. Her research, which is supported by major grants from the National Institutes of Health and the American Cancer Society, focuses on improving care for children, adolescents, and young adults with cancer and their families.